Massage Therapy
In all types of massage therapy, the intention is to relax the soft tissues, increase delivery of blood and oxygen to the massaged areas, warm them, and help the body to relax. In a typical massage therapy session, the practitioner will discuss symptoms, medical history and the desired results. The practitioner generally performs some evaluation through touch before beginning the massage. Massage may be found to bring relief from everyday aches, reduce stress, increase relaxation, address feelings of anxiety and tension, and aid general wellness.
Katherine Hills
Katherine is a Chartered Physiotherapist specialising in sports injuries.  Katherine's experience has taken her from Hong Kong to London to Bristol, working with Hong Kong's National Rugby Academy to West Ham Women's Under 23's.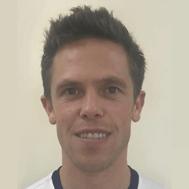 Jonathan Watkins
Jon is a Chartered Physiotherapist and sports injury medicine practitioner.  He is a keen cyclist, runner, mountaineer and rock climber, with a love of rehabilitation, strength and conditioning.