What is Audiology?
The word audiology is made up of two roots: audio and logy. 'Audio' refers to 'hear' and 'logy' to 'the study of'. In essence, audiology is the study of hearing and because the inner ear is required for balance, this area also falls within audiology. In medical terms it is the branch of science dedicated to the study of hearing, balance and their associated disorders.
An audiologist is a hearing healthcare professional who manages, focuses and finds solutions to any problems that a patient is experiencing in their auditory system. Audiologists are professionally trained to diagnose, treat and monitor all levels of hearing loss, tinnitus symptoms and balance issues (vestibular). An audiologist works with patients supporting them with hearing aids, tinnitus, ear wax removal, hearing loss, noise protection and hearing tests.
Diagnose, treat and monitor all levels of hearing loss
Tinnitus symptoms
Balance issues (vestibular)
Hearing aid support
Ear wax removal
Hearing loss support
Noise protection and hearing tests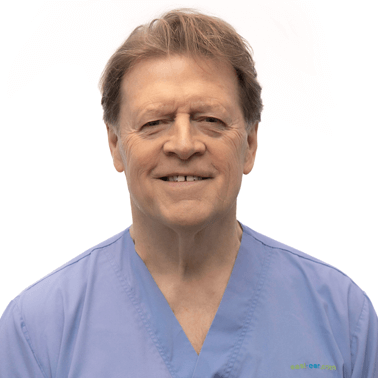 Ian Croft
I am Ian, an audiologist in my 27th year of practice. Removing earwax using micro-suction, prescribing and dispensing discreet digital hearing aids, hearing rehabilitation and tinnitus advice are all part of my remit. I enjoy talking about audiology, so please feel free to ask me anything.