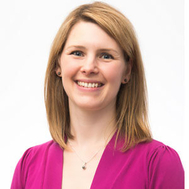 Lydia Leighton
The Old Rectory Clinic - Iron Acton, Bristol
---
Therapist profile
Lydia Leighton is a qualified, registered Dietitian and Nutritionist with over 15 years experience. Lydia has had a varied career working within the NHS, in hospitals and in the local community, working alongside GP's and other health professionals to support adults and children both as individuals and in groups.
Lydia specialises in using behavioural change approaches to support people to manage their weight by guiding them to make the right dietary choices, correctly tailored to their individual lifestyle, nutrition and wellbeing. Some of the other areas she has practiced are nutritional deficiencies, pregnancy nutrition, malnutrition, impaired glucose tolerance, type 2 diabetes mellitus, polycystic ovarian syndrome, cholesterol lowering and heart health, and some gut disorders.
As a mum with two young children, Lydia uses her knowledge in day to day life to balance her family's needs to promote a healthy lifestyle that encourages a sensible, healthy relationship with food for them to enjoy. She is passionate about helping people to understand how the food they eat affects health and wellbeing. She bridges the gap between what goes on your plate and what happens in your body by making nutritional science easy to understand.
Lydia enjoys delivering presentations and workshops on a range of healthy eating and lifestyle topics to suit the requirements of a particular group. In essence Lydia works creatively to provide practical advice for real people to enjoy everyday life.
Current holistic therapies and key qualifications
Bachelor of Science in Nutrition and Dietetics (BSc Hons) 2004
Registered Dietitian with Health and Care Professions Council (HCPC)
Full Member of British Dietetic Association
Member of Freelance Dietitians Group
Old Rectory Clinic - Bristol
The Old Rectory Clinic in Iron Acton is conveniently located with easy access from Yate, Chipping Sodbury, Frampton Cotterell, Coalpit Heath, Winterbourne, Westerleigh, Thornbury and the surrounding areas.
The Old Rectory Clinic is a 'Practitioner Direct Clinic'. This means that clients and patients are able to contact their practitioners and therapists directly by telephone, text and by email. Please follow the relevant links to find your practitioners or therapist's contact details.
Therapy fees:

Free 15 minute discovery call
Initial Consultation and follow up appointment £150
12 week Weight Loss Programme £345
Availability
Wednesday:
9.30am - 2.30pm
Get in touch
Address:
The Old Rectory Clinic
High Street
Iron Acton
Bristol
BS37 9UQ