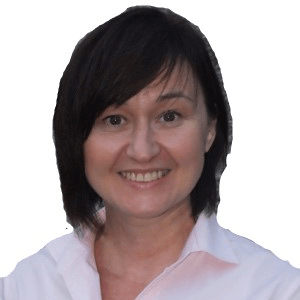 Dorota Jedryszka
The Old Rectory Clinic - Iron Acton, Bristol
---
Therapist profile
Dorota graduated from the European School of Osteopathy in Maidstone (Kent) where she completed a four year Integrated Masters course in Osteopathic Medicine including cranial, visceral and structural approaches. Dorota has developed a special interest in gentle and subtle techniques that tend to be very effective and safe for newborns, adults, children and the elderly and she is undertaking further post-graduate study in the cranial field at the Sutherland Cranial College of Osteopathy.
Dorota is fully registered by the General Osteopathic Council and a member of the Institute of Osteopathy. Her interest in the human body started early in childhood where with passion she had been looking at pictures of the human body in a medical encyclopedia and reading books about vegetables and fruits composition, and the naturopathic approach to maintain health. But it was only many years later when she came across Osteopathy, as a patient at first, and then she decided it was the career for her. In the mean time she was gaining life experience as a Registered Nurse and Biodynamic Craniosacral practitioner. She is also volunteering at the Art of Living Organisation.
Current holistic therapies and key qualifications
Masters in Osteopathy M.Ost
Biodynamics of Craniosacral Mechanism
The Institute of Osteopathy
The General Osteopathic Council
Old Rectory Clinic - Bristol
The Old Rectory Clinic in Iron Acton is conveniently located with easy access from Yate, Chipping Sodbury, Frampton Cotterell, Coalpit Heath, Winterbourne, Westerleigh, Thornbury and the surrounding areas.
The Old Rectory Clinic is a 'Practitioner Direct Clinic'. This means that clients and patients are able to contact their practitioners and therapists directly by telephone, text and by email. Please follow the relevant links to find your practitioners or therapist's contact details.
Therapy fees:



Therapy Fees for Adults:


Initial Consultation - £70.00 (approximately one hour)
Follow up sessions - £60 (approximately 40-45 minutes)


Therapy Fees for newborn and children


Initial Consultation - £65.00 (approximately one hour)
Follow up sessions - £50 (approximately 35-40 minutes)
Get in touch
Address:
The Old Rectory Clinic
High Street
Iron Acton
Bristol
BS37 9UQ